IUCN/SCC Otter Specialist Group Bulletin
©IUCN/SCC Otter Specialist Group
Volume 35 Issue 1 (January 2018)
Note from the Editor
Previous | Contents | Next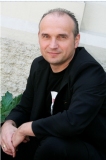 Dear Friends, Colleagues and Otter Enthusiasts!
I had promised that we will try to work on the backlog of manuscripts. So finally we just have closed the last issue of 2017 and open now issue 35/1 as the first issue of 2018. In fact we have at this moment already 21 manuscripts in different stages from being completely finished to just sent out to the reviewers. I can promise that interesting things are soon online. I hope you all will keep coming back to our website and see what new manuscripts went online. As previously announced f authors that need a statement that their manuscript has been accepted for internal reasons please contact me and I will provide the necessary documentation.
I would like to repeat that we are searching for pictures as if possible I prefer to have a separate picture for the title page and not take one from the articles. Therefore it would be of real great support if some of you could provide us photos, as we need good resolution pictures for the title page.
Merci villmols to Lesley for endurance with the Bulletin. She puts a lot of energy into this voluntary work and without Lesley there would be no Bulletin.