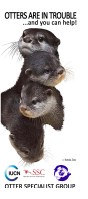 The Otter Specialist Group (OSG) was founded in 1974 and is part of World Conservation (IUCN) Species Survival Commission (SSC). The aims of the Group, as set out by IUCN, are to:
Provide leadership for the conservation of all otter species (Lutrinae).
Determine and review on a continuing basis the status and needs of otters, and promote the implementation of necessary research, conservation and management programmes by appropriate organisations and governments.
Make known the status and conservation needs of otters, and promote the wise management of otter species.

Our new e-Book by Nicole Duplaix and Margherida Bandini, with contributions by many OSG members.
Download your copy ...
This website contains many resources which may be used freely as long as the source is aknowledged, as well as some restricted to members of the Otter Specialist Group. See the Bulletin, our Library or contact us if you can't find what you want.